Research on the Nova Scotia Men's Helpline
The Centre for Research & Education on Violence Against Women & Children (CREVAWC) at Western University worked with the Government of Nova Scotia and its partners to study the implementation of Nova Scotia's Men's Helpline (MHL).
Together with Prof. Diane Crocker, Saint Mary's University, and Standing Together, an initiative in Nova Scotia dedicated to disrupting harmful cycles of domestic violence, this research examined the challenges and successes connected with creating and implementing the MHL, including the experiences of line responders and project partners. The Men's Helpline Evaluation Working Group worked together to examine various aspects of the MHL's performance, including looking at call volumes, statistics, and client-needs assessments. The report contains considerations for those looking to establish similar helplines in other areas of Canada.
This research found that the MHL provides timely and accessible supports and services to Nova Scotians who identify as men (18 years and older) who have concerns about their well-being, safety, safety of others, and/or are looking for support.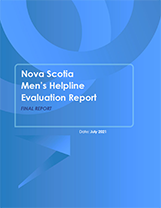 Highlights from the report include:
 • 
33% increase in men's help-seeking associated with COVID-19
 • 
MHL effectively supports men with a diverse range of needs and concerns
 • 
MHL provided almost 800 single brief intervention counselling sessions
To learn more about our research,
read the Nova Scotia Men's Helpline Evaluation Report here
About the Men's Helpline
Men's Helpline is a new service for Nova Scotians who identify as men, 18 years and older, who have concerns about their emotional well-being, safety, and/or safety of others.
By contacting 211, men can access a variety of supports and services that are specific to their needs, including information, navigation, referrals, and brief intervention counselling. This free, confidential service is available 24-hours a day, seven days a week. The service is available in English and French, and in multiple languages with the use of an interpreter.
The government of Nova Scotia has been working collaboratively with community partners to enhance province-wide supports for families. Enhancing support for men – and normalizing reaching out for help – are important components of an integrated and holistic approach to prevent violence against women and children.
This work is part of Standing Together, Nova Scotia's coordinated action plan to prevent domestic violence and improve the system of supports for all Nova Scotians. Partners include 211 Nova Scotia, Family Service of Eastern Nova Scotia, the Nova Scotia Advisory Council on the Status of Women, and the Nova Scotia Department of Community Services.
Research Team
Principal Investigator: Prof. Katreena Scott, Western University, ON., CREVAWC 
Co-Investigator: Prof. Diane Crocker, Saint Mary's University, NS., Standing Together 
Standing Together Evaluator: Marlee Jordan 
Project Manager: Dr. Nicole D. McFadyen 
Research 

Collaborators

Standing Together
211NS
Family Services of Eastern Nova Scotia 
Research funded by Women and Gender Equality Canada
For More Information
Media Links:
Men's helpline launched in Nova Scotia